If you need to access your data away from the office or want to give users outside of your company access, it's time to convert to a small business accounting software like QuickBooks Online. The good news is converting from QuickBooks desktop to online is so easy, you can do it yourself; if you get stuck, you can contact QuickBooks support for free!
Before we get started, the process included in this article is for small businesses that currently use the Windows Pro/Premier version of QuickBooks Desktop. 
1. Check the File Requirements
You can only import your data to QuickBooks Online within the first 60 days of the subscription start date. If you have had your QBO subscription for more than 60 days, then you have two options:
Find a QuickBooks ProAdvisor who can convert files within the first 180 days of their subscription start date; OR
Set up a new QuickBooks Online subscription and use a different email address.
Verify the total target count in QuickBooks Desktop. To do this, open your QuickBooks Desktop file and press F2. Total targets cannot exceed 350,000 for the import to work. In the example below, the total number of targets is 25,642. Note: If your file exceeds 350,00 targets, you will get an option to import lists for customers, vendors and products and services along with account balances only.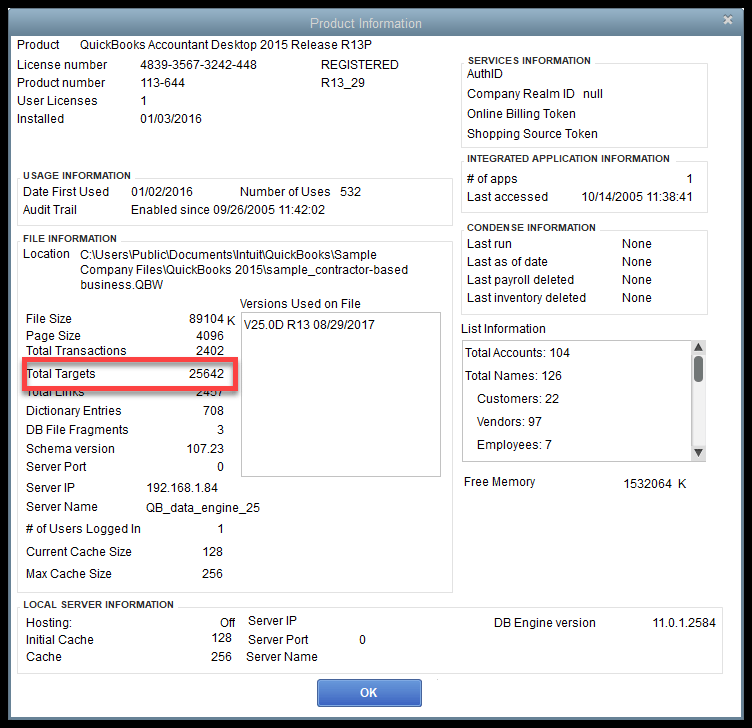 2. Prepare Your QuickBooks Desktop Data for Export
Follow the steps below as a checklist to ensure your data is ready for export:
Update your data – This is your opportunity to clean up your data. For example, if you have customers or vendors whose contact information needs to be added or changed, this is the time to take care of that.
Complete outstanding tasks – Ideally, you should convert your data at the end of a month, quarter or year. With that said, make sure that all bank accounts have been reconciled, payroll has been processed and all inventory adjustments have been made prior to conversion.
Backup your data – Before you take the steps to import your data into QuickBooks Online, make a backup of the data file. To create a backup copy in QuickBooks Desktop, go to: File>Back Up Company>Create Local Backup, as indicated in the screenshot below: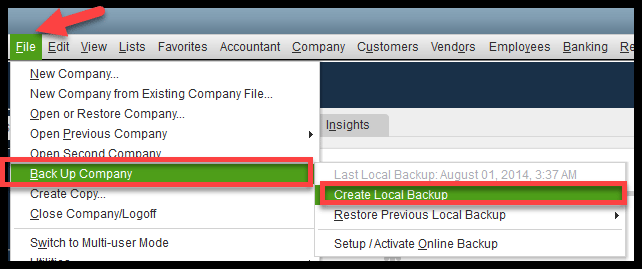 3. Create a QuickBooks Online Account
In the next screen, you will enter basic contact information like email address, name and mobile number and password to get your QuickBooks Online account set up. As mentioned previously, if you have an existing QBO account, it has to be less than 60 days old in order for you to convert your data. If your account is more than 60 days old, you will need to create a new one.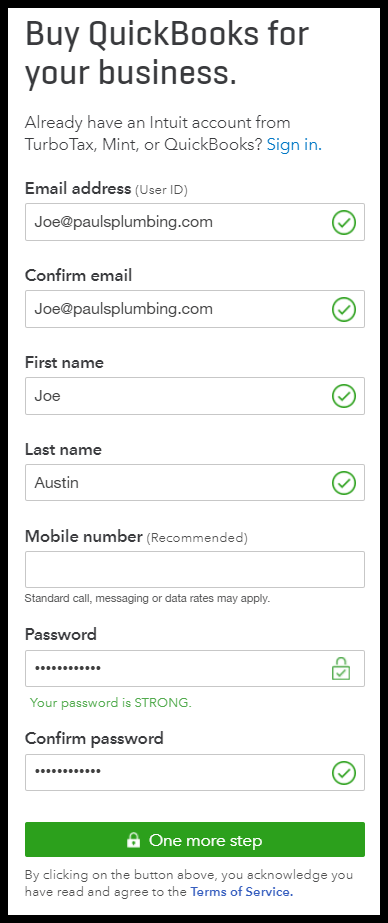 Provide Basic Company Information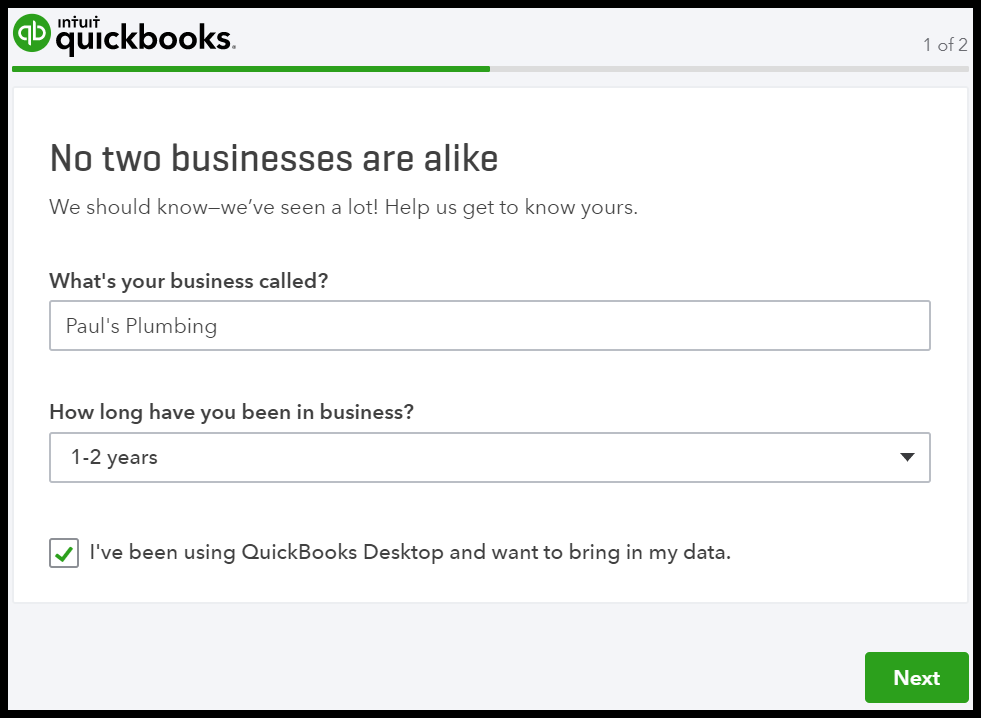 Log Out of Your QBO Account
Click on the Gear icon (upper right corner) and select Sign Out, as indicated in the screenshot below.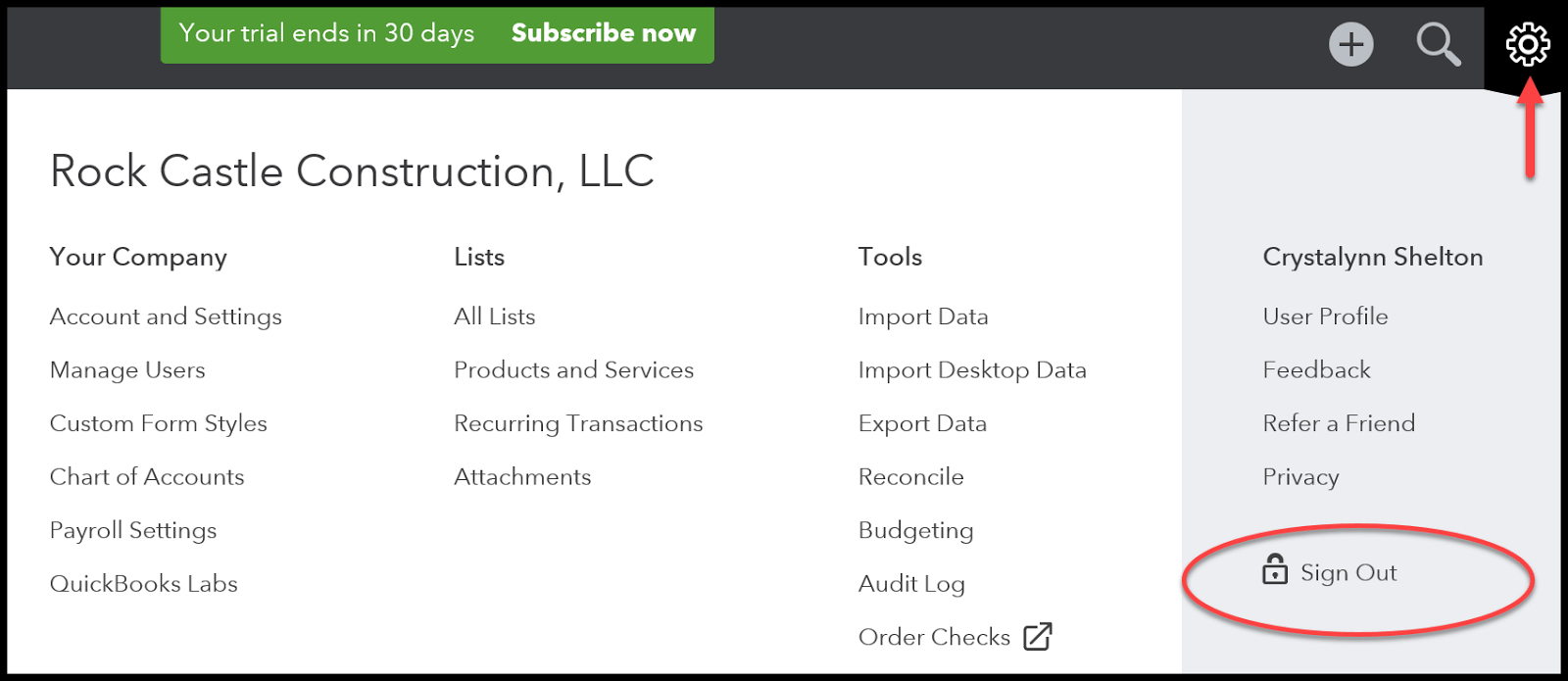 4. Open QuickBooks Desktop
Log in to the QuickBooks Desktop account you are converting from. You'll need to export your data out of this account and into QuickBooks Online.
5. From the Company menu, select "Export Company File to QuickBooks Online"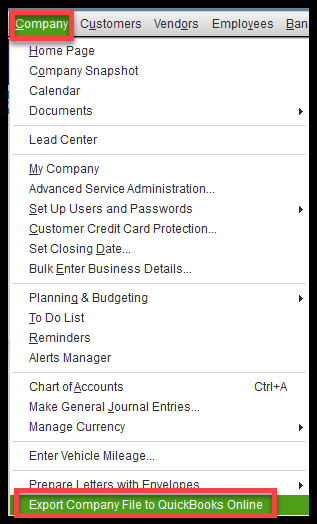 Note: If you don't see the "export company file to QuickBooks Online" option, you need to download the most recent update. From the Help menu, select Update QuickBooks, as indicated in the screenshot below. Once the update has completed, close out of QuickBooks altogether and then log back in. Return to Step 2 above.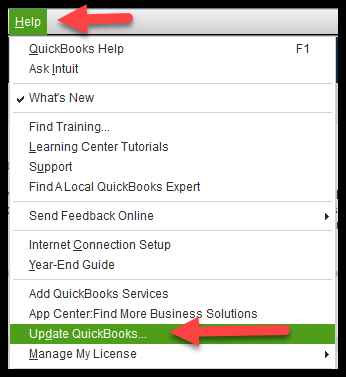 6. Sign Back into Your QBO Account
Enter your user ID and password, as indicated in the screenshot below.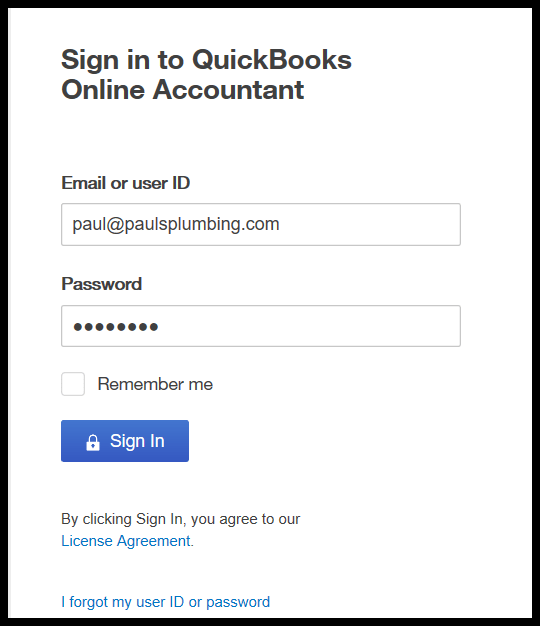 7. Indicate Whether You Want to Bring Over Inventory
If you are managing your inventory in QuickBooks Desktop, it is currently valued using the average cost method. However, if you decide to bring the existing inventory into QuickBooks Online, it will be valued using the FIFO method, which may have a significant effect on the value of your inventory. Be sure to consult with your accountant before you bring over your inventory, because you will need to report a change in inventory method on your tax return.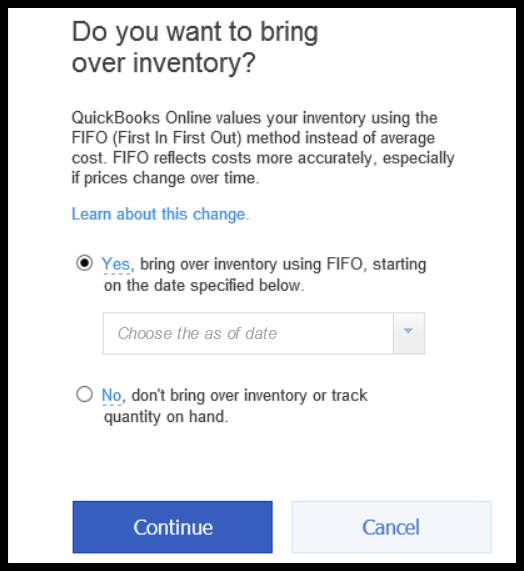 If you say "yes" to the above question, the value of each inventory item will be recalculated using the FIFO method as of the start date that you select in the above screen. As noted above: Be sure to consult with your accountant before you do this because they will have to report a change in inventory methods on your tax return.
If you don't have an accountant and you are in a hurry to convert to QuickBooks Online, say NO to the above question. You can always import your inventory from an Excel spreadsheet once you have a chance to consult with an accountant.
8. Select Your QBO Company
Select the QBO company that you want the data to import to from the drop-down list. If you forgot to set up your account, click on the "create new QuickBooks Online company" link and follow the on-screen instructions.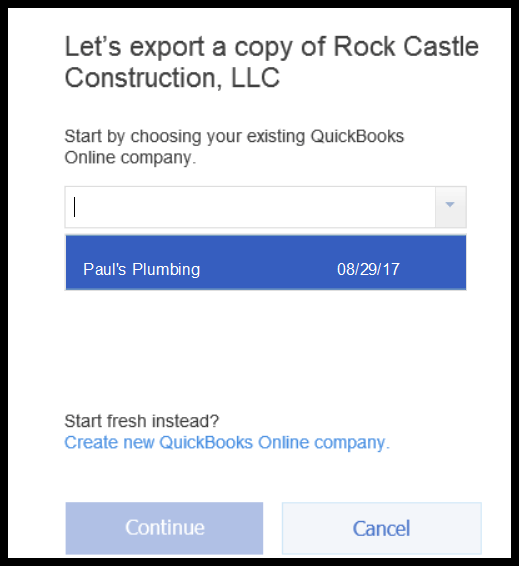 9. Data File Copy
You should see a notification similar to the one below once the process has begun. The length of time this process takes is dependent on how large your file is. If you don't have a lot of data, this could take just a few minutes but if you do have a large file, it could take several hours.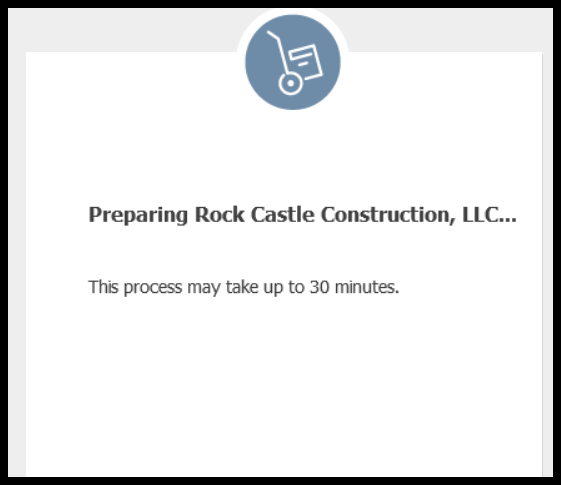 Once your data file has been copied, you will see a notification similar to the one below. Click on the "Ok, got it" button and you can log out of QuickBooks Desktop or keep working.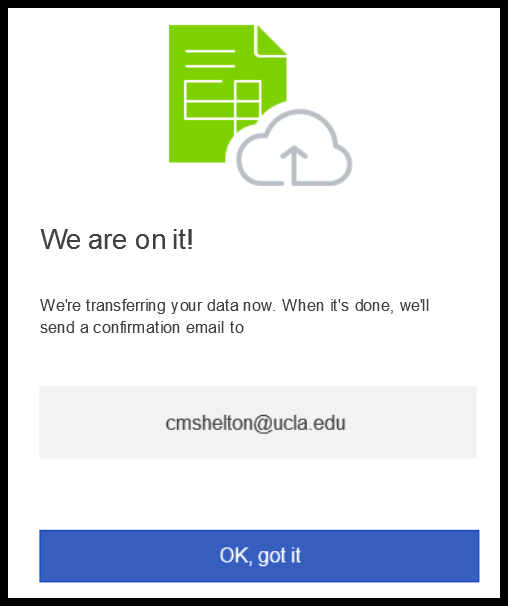 Once your data is ready, you will receive an email saying your data is ready to review in QBO, similar to the one below. Click on the "Complete your setup" button to log into QBO and review your data.
At this time, there are some features that are not available in QuickBooks Online. If you still need any of the following features, we do not recommend that you convert to QuickBooks Online:
Sales Orders
Fixed Asset Tracking with Fixed Asset Manager
Price Levels
Estimate to Actual Reporting
Price Levels
Estimate to Actual Reporting